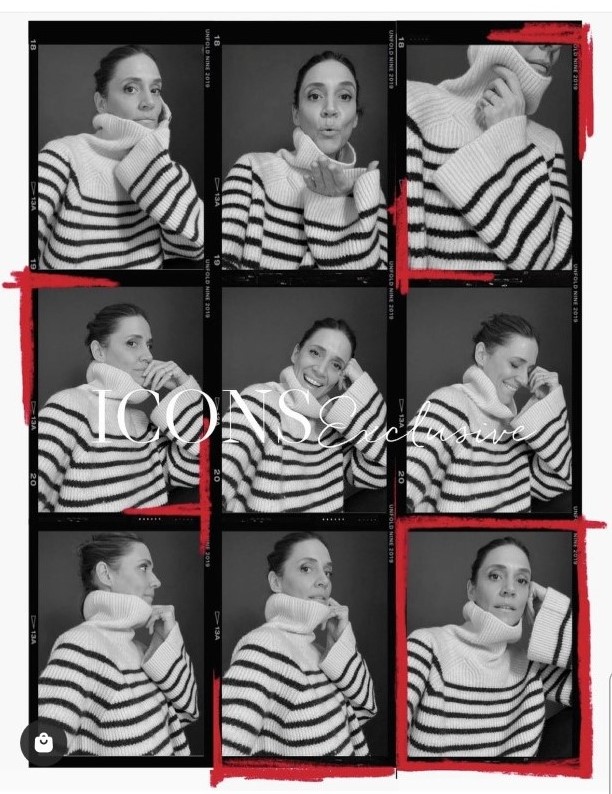 March: International Women's Day
Welcome to our March journal entry!
What a busy few weeks it's been! Back at the end of February we launched an exciting new collaboration with uber stylish Wardrobe Icons  website where our Chibbles nautically striped knit became their very fist "exclusive" (if you haven't done so already, you can pre-order your jumper there now) . Then almost two weeks ago, we packaged up our house and moved from our lovely Georgian town house in the centre of Kenilworth to an equally gorgeous converted barn in the Warwickshire countryside! Now all I can see are fields out of my window and soon, the sheep and lambs will be out in the fields again…
March for me is when Springtime really arrives; lambing has begun, the primroses and daffodils are gradually coming into bloom and the joyful mimosa buds which hail the arrival of International Women's Day are in season. I'm rather embarrassed to admit that I didn't really know about International Women's Day until I moved to Italy where it is fiercely celebrated and sprigs of mimosa are on sale at all the pavement flowers stalls.
I'm a second generation feminist, in the sense that feminist values were instilled in me by my mum, (I had an enviable reading list!) but I've never really had to fight the cause myself. However, I strongly believe that it is vital to celebrate the women who have managed to carve out successful careers, following their dreams, in an environment which must have been challenging, whilst encouraging and supporting those around them to grow with them.
Franca Patumi, the owner and founder of the small knitting factory who knit half of my collection in Perugia, Italy, is one such person. Whenever I call or visit her factory I am warmly greeted by her personally, she has a very close knit team of women who work alongside her, including her daughter and sisters. There's a real sense of camaraderie in her "maglificio" everyone is passionate about what they do and you can feel the pride they take in their work. They are a joy and inspiration to work with, which is why, for International Women's Day 2021, I asked Franca to share her story with us, I hope you enjoy the interview:
Frankie: How did you begin working in the knitwear sector?
Franca: As a little girl, I was always inspired by my own mother who created the knitwear for Luisa Spagnoli who was one of the greatest Italian female icons of the fashion and textiles industries, she was famous the world over and had a huge influence on the city of Perugia. Around this time, I began working for a famous local knitwear factory. A few years later, I decided that the time had come to "fly with my own wings" and I opened the knitting factory that I still own and manage today.
Frankie: Has the factory always been family run?
Franca: Exactly. It's an all female knitting factory and every one of us has their own role tom play in the continual growth of the business.
Frankie: Who was your role model – the person who inspired you the most in your career?
Franca: The person who inspired me the most was definitely Luisa Spagnoli, for her entrepreneurial talent, and my own mother for the level of commitment she dedicated to her work. In addition, both of these ladies felt passionately about the work that they produced. This for me has always provided a guide on how to carry out my daily work.
Frankie: How did you go about choosing your team?
Franca: The first requirement that I look for daily in each person I work with is their own sense of passion for and pride in their work…if above all else, this is seen as a pleasure, then the hours spent at work are never tiring.
Frankie: Where does the strength and determination to manage your own business come from?
Franca: In tracing the journey of the thread and in the knowledge needed to turn this into a finished garment; there is an immense sense of satisfaction in being able to do this, which drives and motivates me to try out new ideas, developments and technologies.
Frankie: What are the challenges, raising a family and a fashion business at the same time?
Franca: Organization is definitely the key to find the right balance between home life and work. But when your family perceives and understands the passion you have for your work, they will support you in your choices and spur you on to achieve your goals.
Frankie: What would you do differently if you had to choose your career again?
Franca: I honestly cannot imagine choosing a different career path… I like exterior design, being surrounded by nature, agriculture and cooking, I would probably choose one of these.
Frankie: How important is it to you to pass on your knowledge of knitwear manufacture to the next generation?
Franca: It's extremely important to understand how to make something from scratch, for this very reason, I'm trying to pass this knowledge on in a school environment, in order to be able to give young people the chance to begin to undertake this career from a very young age, just as I did.
If you'd like to read the original transcript in Italian, please email me and I will send you a copy…
Franca and her team